Message
Our company was established in the year 1974 in Setagaya, Tokyo by the Ex-Chairman, Mr. Toshiro Sakamoto, for engaging in trading materials for Printed Circuit Board to Panasonic Corporation under the name "Tokyo Denshi Co.,Ltd."
Afterwards, in order to response to customers' further needs, in the year 1979, "Tokyo Machine&Tool Co.,Ltd." was established and engaging in selling Tools related to consumable equipment for Drilling Machines used in processing Printed Circuit Board.
The Printed Circuit Board industry has been accomplished with remarkable development. However, in recent years, manufacturing bases have been globalized and the inclination of shifting to foreign bases especially to Asia became increasingly strong.
Meanwhile, Printed Circuit Board itself has turned to require for even more accuracy and high density including also the wide ranging of peripheral equipment such as Direct Exposure Machine and Inspection Machine.
We do not stop ourselves only at the drilling process of Printed Circuit Board. We aim to line up our products so as to be able to visionary propose for the whole processes from Materials Input until Finished Goods Inspection Process.
Also, our business base were established as local juristic company in Thailand in year 2007. We are currently globalizing our sales aiming for further response to customers' needs. Consequently, our exigency issues here are to proceed activating our company for broadening demand and stipulating our vigorous minded personnel.
While maintaining company's FOUNDER's precept "CONSTANTLY DEVOTES WHOLE-HEARTEDLY TO CUSTOMERS BY STANDING AT CUSTOMERS' STAND POINTS", we put great effort eagerly to grow strengthening and capable to keep on challenging the contribution to customers.
President Toshihide Sakamoto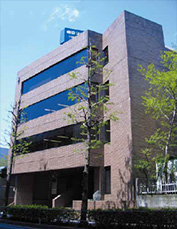 Company Outline
Business Name / Tokyo Machine & Tool Co.,Ltd.
Address / 2-18-5, Shimmachi, Setagaya-ku, Tokyo,
    154-0014, Japan
Access / By Train : Closest Station: 10-minute walk from Sakura-
    shimmachi station on Tokyu Den-en-toshi line
    By Car : Next to Honda cars Sakura-shimmachi outlet on
    National Route No. 246
    >>Access Map
TEL / 03-5450-4611
FAX / 03-5450-3937
Date of Establishment / July,1979
Representative / Toshihide Sakamoto
Capital / 100 Million Yen
Number of Employees / About 30. Including affiliate companies.
Business Description / Machines, equipment, tools, peripheral devices, and consumable supplies for cutting, drilling, routing, testing, etc. of printed-wiring boards
Membership / Japan Electronics Packaging and Circuits Association
Our Bankers / Mizuho Bank, Ltd., Resona Bank, Limited., Sumitomo Mitsui Banking Corporation, The Bank of Tokyo-Mitsubishi UFJ, Ltd.
Customers / We do not disclose company names due to our nondisclosure agreements with our customers.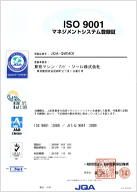 ISO9001 certified
Tokyo Machine & Tool Co., Ltd. has been certified by Japan Quality Assurance Organization (JQA) that complies with the international quality assurance standard ISO 9001 with regard to selling printed wiring-board manufacturing equipment (printed wiring-board drilling machine, printed-wiring board routing machine, printer-wiring board processing machine, and relative devices), cemented carbide tools for printed-wiring boards, and tools related devices.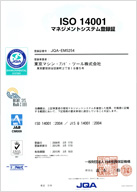 ISO14001 certified
Tokyo Machine & Tool Co., Ltd. was certified by Japan Quality Assurance Organization (JQA) that it is compliant to ISO14001 for its printed boards manufacturing equipment (printed boards drilling machines, printed board external processing machines, printed boards laser processing machines ) and related quality assurance standards.
Tokyo Machine & Tool (Thailand) Co., Ltd. Company Outline
Address / 333 Lao Peng Nguan 1, 17th Floor, Room A1, Soi Chaoey Phuang, Viphavadee-Rangsit Rd., Jomphol, Jatujak, Bangkok 10900 Thailand
Product Line /
- Tungsten Carbide Cutting Tools (Drill, Ball, Square, Radius)
- PCB/PWB Drill Bit, Router Bit
- Machines for PCB/PWB Drilling, routing
Website / https://www.smri.asia/th/tmat/
Affiliate Company Profile Tokyo Denshi Co., Ltd.
Address /
【Head office】
2-18-5 Shinmachi, Setagaya-ku, Tokyo 154-0014
TEL: 03-5450-6261 FAX: 03-5450-6461
【North Kanto Sales Office】
2-72 Imaidai Honjo City, Saitama Prefecture 367-0025
TEL: 0495-25-3331 FAX: 0495-25-3377
Product Line /
Panasonic Corporation Sales of Printed Wiring Board materials and subsidiary materials.
Website / http://www.t-denshi.co.jp/index.html
Environment Policy
As a trading company working in electronics and printed-wiring boards industry, Tokyo Machine & Tool Co., Ltd. is actively working on various environmental problems faced by the world, and contributes to building "Resources and Energy Recycling Oriented Society",
1. In all our business operations and activities, we practice resource conservation, recycling, reducing waste material, and energy conservation.
2. We strive to offer environment friendly low power consumption products and services.
3. We set environment objectives and goals, and make continuous improvements in our environment management system.
4. We also follow other required matters and strive to prevent pollution.
5. We have disseminated this policy to all employees and also made it available externally.
May 1, 2014
Tokyo Machine & Tool Co.,Ltd.
President and Director Toshihide Sakamoto
Please feel free to contact us by telephone, FAX, or email regarding inquiries
about our products and other opinion about our company.
TEL : 03-5450-4611
FAX : 03-5450-3937
E-Mail : info@tokyo-mt.com