Hitachi Industrial Equipment Systems Co.,Ltd.
We emphasize reliability and functionality and offer environment-friendly products according to the requirements of our customers.
We would like to introduce [Hitachi Industrial Equipment Systems Co., Ltd.] that powerfully support a wide range of requirements. We support new installation and upgrade of customers' facilities back by our extensive range of devices. Following are some of the products that we offer.
Inkjet printer, Laser marker

Industrial IJ printer Gravis series
Next-generation Leadership performance
Maintainability and environmental performance have dramatically improved.
A human-friendly and environmentally-friendly IJ printer has debuted.
Continuous ink jet printer is marking equipment for various products in industry. The features are high speed printing, non-contact printing, clear printing and flexible printing.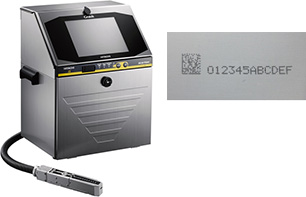 CO2 laser marker
Hitachi new laser marker LM-C300 Series meets a wide variety of industrial coding requirements.
Hitachi has provided for a high-level marking system solutions in a wide range of production lines. And now, the LM-C300 Series CO2-based laser marker is developed with Hitachi's experiences and know-hows.

Simple and intuitive operation
Stable operation by new cooling system is realized.
In protection structure, IP54 is equipped as standard.
Pneumatic products, Compressor

Hitachi offers a wide variety of compressors. Check out our lineup and find the right one for you.
Industrial Vacuum Cleaner

It was can be used for daily cleaning and sweeping in any industry in offices, factories, and various facilities where you want to maintain clean environment and improve efficiency and quality.Hitachi, which has over 50 years of experience in manufacturing vacuum cleaners, offers " Store and Industrial Purpose Cleaners "that can handle a variety of dust and waste.In addition to power and capacity, various models are available that have been carefully designed from the standpoint of durability of various parts, collection performance, and ease of use. select the most suitable cleaner according your purpose of use.